---
MAIN THREATS TO SECURITY AND STABILITY: EXTERNAL AND INTERNAL
There is broad consensus that while Papua New Guinea lacks any serious external threats it is faced with increasing non-traditional threats and an urgent need to strengthen its security agencies. Papua New Guinea's National Security Policy, launched in 2013, identified the most immediate challenges as: law and order; graft, corruption and good governance; human rights abuses and gender-based violence; lack of border control; natural disasters and climate change; arms trafficking and proliferation; illegal poaching of resources; drugs, alcohol and substance abuse; microbial attacks on plants, animals and human lives; and medical emergencies including HIV and AIDS, tuberculosis and malaria. Second order threats include external and internal military aggression, cyberattacks, food security, land security, population growth, and climate change.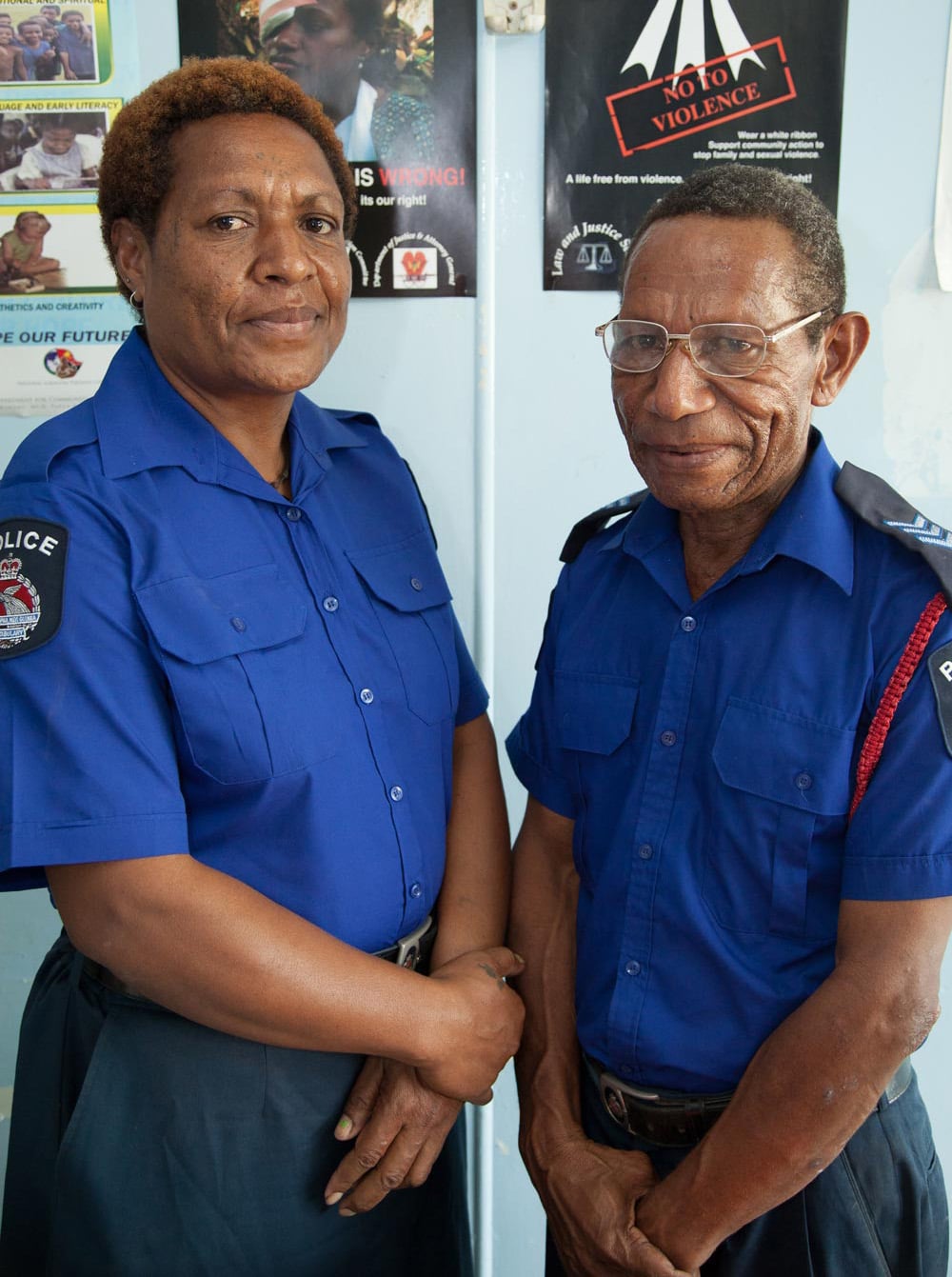 Police officers Peter and Malen look after the cases at the Family and Sexual Violence Unit at Waigani Police Station, Port Moresby PNG. Photo: Department of Foreign Affairs and Trade (flickr)
In the absence of conventional threats, the PNGDF has struggled to carve out a traditional security role or establish a niche function such as Fiji's international peacekeeping operations. A long history of disciplinary problems is believed to stem more from leadership issues and grievances over working conditions than from overt political ambitions. Even during the tumultuous Sandline Affair in 1997, when the PNGDF rebelled against a decision to deploy foreign mercenaries in Bougainville, no attempt was made to take over government. The prospect of a military coup in Papua New Guinea is unlikely as such a small force - just over 2000 personnel - would not achieve anything more than a temporary and geographically circumscribed takeover of government in such a large and politically fractious country.
Arguably the most critical role for the PNGDF is in protecting PNG's land and maritime borders from the non-traditional challenges, such as resource poaching and gun smuggling, identified in the 2013 White Paper. Such a task is complicated by the small size of the PNGDF and PNG's extensive maritime economic exclusive zone (EEZ), as well as its long land border with Indonesia. Although Australian-supplied patrol boats have greatly assisted maritime surveillance, lost fishing revenues from illegal, unreported, and unregulated fishing in the zone are believed to be considerable. Likewise, smuggling in illicit goods such as guns across PNG's only land border is common and has contributed to the proliferation of illegal firearms. In response to these risks, the 2013 White Paper proposed to significantly increase the size of the PNGDF, with a target of 10 000 personnel by 2030. Analysts have cautioned that a much larger force might be tempted to adopt a more political role,[3] while the actual prospects of such an expansion have receded with the deterioration of PNG's fiscal position.
The PNGDF also assists civil authorities, notably the police, in providing security for significant national events, such as PNG's elections and the forthcoming APEC summit. It has been legally possible for the PNGDF to deploy internationally since 2010, with its most significant off-shore deployment in recent years being the Regional Assistance Mission to Solomon Islands (RAMSI).
---